PARANORMAL EXPERT: `SALT LAKE CITY IS WEIRD'

SALT LAKE CITY (Wireless Flash) -- Salt Lake City might be cold but it's also a hot place for paranormal activity, according to one local expert.

    "Alien" Dave Rosenfeld says that his hometown of Salt Lake City is one of the hottest spots for paranormal activity in the country, thanks to an inter-dimensional vortex located a few miles away at Bigelow Ranch in Fort Duchesne, Utah.

    Apparently, all sorts of strange visitors come through this portal -- including ghosts, lake monsters and UFOs.

    However, the most annoying vortex tourists are some mysterious light balls -- one of which hit and incinerated a dog a few years back.

    Despite the spooky goings-on, Alien Dave insists Olympic contestants shouldn't feel alienated. He says they have nothing to worry about, since most paranormal creatures "don't want to hurt anybody."

CONTACT: "Alien" Dave Rosenfeld, ****; (801********

Thanks to ADAM - Wireless News Flash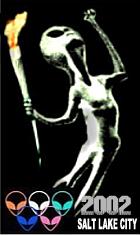 Update on: 9/2/2003

I would like to clarify somes things sbout this release,

The Flash story says I'm an "Expert" which I'm not, just a UFO researcher, Contactee, with a website. and search group. And not much of a public speaker.

and it says that I said that "Salt Lake is a Paranormal Hotbed", Which is somewhat true but its really not my field (Ghosts) I research UFOs and aliens mosty. And am the director for the Utah UFO Hunters.which are Co-sponsors for SLC MUFON. And many since have mis-quoted me.There is a lot of activity here in Salt Lake and Utah, and I have had a Ghost experience or two. "Expert"? no

Experiencer? Yes

Dave Rosenfeld

Alien Dave has done becuase of this story

PARANORMAL EXPERT:

`SALT LAKE CITY IS WEIRD'