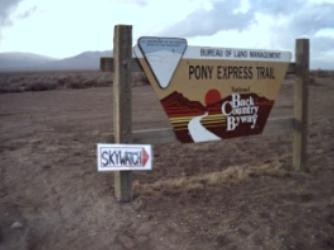 Updated: 8/29/2005
Skywatch at Dugway Nov 10-11/2001

South End of Dugway,Near Michaels AAF, Simpson Springs,  Pony Express Trail,

Weather cooperated the evening of November 10th. 

DAVE ROSENFELD, MARK WOODY, TROY JACKSON, RYAN LAYTON, MARLEE SPENDLOVE, SUSAN,  Attended the Skywatch

Secret Testing? - Secret Base ? - Have Black Projects been moved?

Those were the questions > But On Our Skywatch none of that was visible, but it was the weekend, and like 51 the good stuff is probably seen during the week. On the other hand the base was very visible as you can see. We still have reason to believe that there are secrets kept on this base. AND WE WILL CONTINUE TO WATCH THIS AREA !

Map of Area


About 25-30 miles south of Tooele and just past Faust on the west side of the road is the entrance to the Pony Express trail,    SKYWATCH

One Of the many Chemical detectors we passed on our way to Simpson Springs. These Chemical agent detectors sound an alarm, and send information if it senses a chemical agent in the air. in case of a chemical accident I would think it would be too late if you were near the one that went off.

DUGWAY SIGHTINGS

VEIW UPDATED RADAR

DUGWAY PROVING GROUNDS

VIEW UPDATED SATELLITE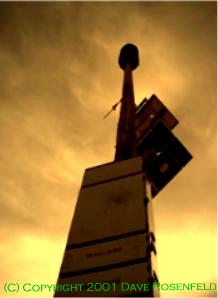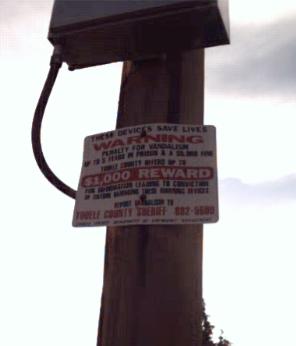 The Chemical detectors displayed this sign Warning people that they are protecting your life WITH THESE DEVICES.

The Tooele Army Chemical Incinerator is just a short distance away to the east of Dugway

The Utah UFO Hunters ,-- Dave Rosenfeld, Mark Woody, Troy Jackson

+ Ryan Layton, UFO, Bigfoot investigator,

and SLC MUFON's, Marlee Spendlove ,& Susan,

Met up at Simpson Springs, along the Pony Express Trail were you can see into Dugway Proving Grounds  and see Michaels AFF. The area where some say Secret Black Projects have been moved, and secret craft are tested. As the light faded and dusk turned into night, the lights from Michaels AFF were clearly visible. The Landing Lights & beacon are very bright. and the glow coming from the east of the base, from over the mountain were from English Village, Were Mark and Troy grew up.

Mark, Troy and I were talking about the base and maps, when we noticed a truck coming in to our little area, A yellow flashing light came on and the truck stopped , a voice said " Your going to have to break it up for the night, guys,  Base Security, By order of Wackenhut" we were just about to break out the video and get defensive when, The voice said " Its me..... Ryan!" and he cut out the light and let us in to his little joke. Ryan got us,

As we settled in amongst the ruins of an old house and farm, we worked to keep warm and bundled up, the conversation got more interesting. Several planes were seen in the sky over the base as well as behind us to the south. There was a lot of traffic on the ground as well, the roads out there are used frequently. Hunters, Geode hunters, ATV riders, etc, are a constant sight here. This dirt road is easily accessible.

We actually could have drove closer to the base, there were several roads to choose from that took you to the base. but I chose Simpson Springs because I have been here before and it has a restroom.

                Next time we'll have to get closer. ALOT CLOSER

Mark Woody Wrote,

" I LOVED the Skywatch Dave!  It was great to meet you, and Ryan, and to see Marlee, and Susan.  I enjoyed it, and am looking to more soon!  I think we'd have done much better on a weekday at Dugway, as we discussed.  That is what seem to work at 51  I learned a lot and had a great time, as did Troy.  We are both READY for Wolf Creek, the Ranch, and any other hotspots.  Maybe we should check this area out in Provo, Susan was telling us about.  Now we have a new phenomena to deal with; Damn Chuppa-Cats anyway!"

                                                             Mark Woody : Member of the Utah UFO Hunters

Troy Jackson Wrote,

It was cold as hell but the company and the conversation was worth it all.  Thanks for the invite Dave.  I still think we would have had better luck during the mid part of the week, of course thats hind sight and I'm looking forward to the next trip.

   Even the "cat" was a great part of the trip, the Chupacat I believe you called it.  Thanks to all who was there and made the cold desert night worth the journey to find out what is exactly going on with the Black Projects.  Still interested in the Ranch and Wolf Creek, So Hint Hint............

   PLEASE LET'S DO IT AGAIN, REAL SOON......Thanks alot  

                                                            Troy Jackson :  the Utah UFO Hunters

Ryan Layton wrote:

.... thanks so much for your collaboration & cooperation.....Ryan the Utah UFO Hunters

Marlee Spendlove wrote:

  Dave,

  I was pleased that Susan wanted to go on the Skywatch and thought, 'Hm-m, a new adventure,'  and it was. We left West Valley at 5:15PM.  It seemed like we drove hours on a endless dirt road. Some guy in a pickup passed us - it turned out to be Ryan.  It was a great relief when we finally found you. It was good to see Mark and Troy again.  They'd come up from Gunnison and Provo to one of the smallest Mufon meetings, so they hadn't met many of the Mufon group.

  The sky was awesome, Ryan told story's and enjoyed some of Dave's 'jambalaya', Mark explained some astronomy, we watched falling stars and looked for the 'chubra cat'.  It was a really great evening and good company.      It only took us 2 hrs to get back to West Valley----maybe because we went back by way of Rush Valley????          ..... Marlee

Susan wrote:

The Skywatch was an adventure! I really enjoyed it.  The night sky was clear showing a blanket of stars that was awesome!  It really was a beautiful site to see, as Mark offered us a short course in astronomy.  Thanks Mark, I really enjoyed learning about the planets.  The air was a bit nippy...actually it was cold, but being wrapped up in my coat and gloves ... sipping hot coffee with a great group of people... I settled comfortably into my lawn chair. Thanks for the coffee Marlee!  

While watching for UFO's I really gained some insight from everyone's knowledge.  Thanks for the information Dave, Mark, Troy and Ryan.  You guys have obviously really done some serious research in the UFO field and know a lot.  The information was fascinating!

Oh and I can't forget the Chuppa-Cat. The dark shadow running across the deserted desert landscape.    Thanks Dave for having Skywatch and inviting me. 

I had a wonderful time and I'm really looking!    Susan

Don Anderson wrote:

Hi Dave,

Sorry I missed the UFO watch. Had some things pop up at the last minute and couldn't break away. How did it go? Did anything manifest for you and were you able to tape anything? Wish I could have made it. I'll try next time.Take care,   Don

Beau Hackwell wrote:

Dave

I feel bad I missed the Skywatch!  Wish I could have been there.  But like I said females are better than UFOs.  Sometimes, Usually?  I have a telescope, I want to bring to a Skywatch, and I WILL be at the next Skywatch.  Rain or shine, or Snow, and it better be soon, hint hint!   Beau

  As the night wore on and some started in on Dave's Jambalaya, and Marlee's Coffee, the distant sound of artillery rounds were heard.  We talked more about the base with Mark and Troy, and wondered about the sensors about the base. We watched many aircraft fly over and wondered if this area is restricted airspace.

  We discussed the next
MUFON Meeting
and  Wizard Dave from past meetings. The death of Bill Cooper, as Dave took photos. The Utah UFO Hunters, Contacts, etc. The conversation was never boring. I think we all learned something that night.
  The night turned into twilight and the Utah UFO topic filled the air, A couple "false alarms", and a "chuppa-cat" sighting, and Marlee and Susan were packing it up. we said our goodbyes to Marlee and Susan,  helped them with directions, and watched them drive away, Can't  really blame them, it was really cold!

  So the "boys" stayed out all night. Talking about Bigfoot, Dugway, and Utah UFOs , under the shooting stars and Clear night sky.

Later, We took a defrost break in the vehicles, in which we lost a couple more.

  Mark had his experience with the "chuppa-cat", and he and I were the eyes for the rest of the night.

4 am, Another impressive "false alarm", another "cat" sighting, some more talk as we watched satellites,and kept warm wrapped in our blankets and layers of clothing.  Before we knew it was dawn.

I made note to Mark that Not One craft was seen taking off from the base, and not one craft landed on the base, that night. But many aircraft were seen flying over and around the base. We decided we will have to come back on a weekday.. and get closer.

below is one of the photos from the skywatch with something unusual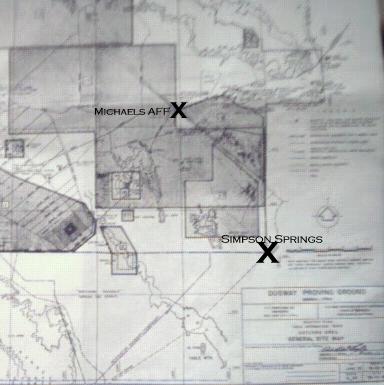 As we talked about where we were going to have our next skywatch, Ryan joining our group, and some Contacts. we wrapped things up with a handshake and went our separate ways.

  As I passed another White Jeep Cherokee with a blue symbol on the door,  I thought about having another one out here and getting closer next time.

   I made my way through the desert passes to the east of Micheals, spotting yet another chem-sensor.

It was good to meet Mark and Troy, Ryan, and Marlee and Susan, in this setting. It seems that this kind of thing is what we all should be doing, and not just a few out of the bunch. I would like to see more of MUFON and others join us on our skywatches. And I would personally like to see more cameras and video out there with us. GET INVOLVED !-  In all, I very much enjoyed the experience, and hope that they and more will continue to participate in our skywatches.

Thanks to all that joined us, and I hope that this skywatch will help in the Idea of Black projects being moved to Utah. And show some of what the Utah UFO Hunters do in the hunt for Utahs UFOs.

We'll see you next time, With your stories, smiles, cameras, better prepared, and with more of you showing.

Keep your eyes up! Deny Everything

                              Dave Rosenfeld - aka - Alien Dave

What the others had to say--------------------------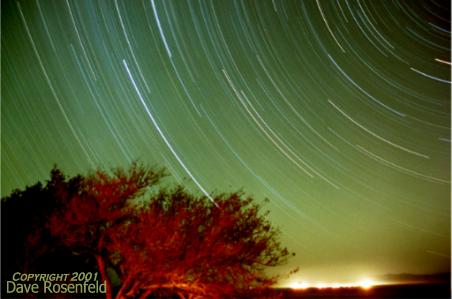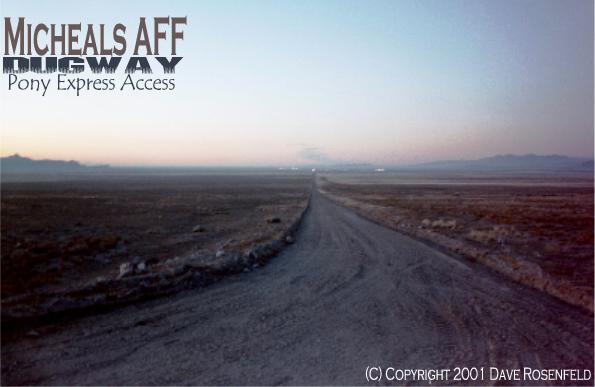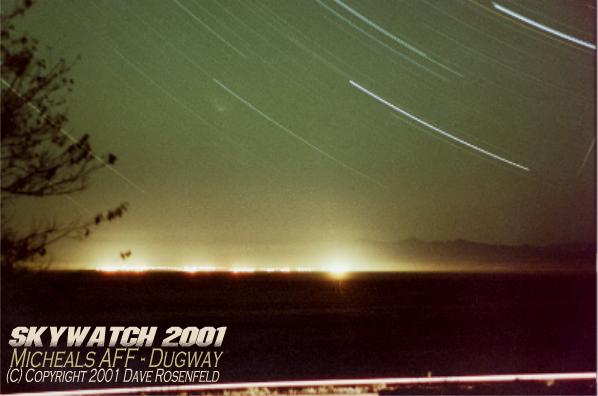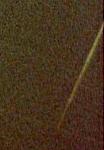 Enlarged section

Of unusual object in question.

Contrast enhanced to show detail

WHAT IS IT?

Enlarged section

Of meteor caught in photo

In this photo there is an unusual light above the base. And a Meteor at far right. The light streak at the bottom is a vehicle passing through the shot.

If You have any comments about this photo or any other please
contact us
Micheals AFF, Dugway- Startrails Nov 11- 2:30 am :  skywatch photo

UUFOH Skywatch Photo:

One of the many roads Accessing Dugway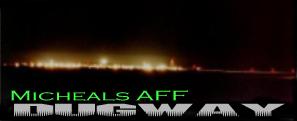 UUFOH SKYWATCH 2001

SKYWATCHERS

Dave Rosenfeld

Mark Woody

Troy Jackson

Ryan Layton

Marlee Spendlove

Susan --------

SKYWATCHERS

If you have a suggestion for our next Skywatch:

Location, Equipment, Members, etc.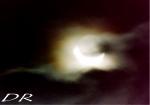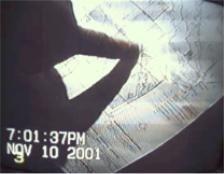 Utah UFO hunters looking over the area

A Strange Ring was caught in this Skywatch photo, what is it?

CLICK ON PHOTO

for larger pic

-COPYRIGHTED MATERIAL-

The information we provide is presented in the interests of open-minded scientific learning and the free exchange of research, ideas, and theories. UUFOH makes no specific claims or endorsements regarding any materials, views, or subject matter presented by our guests, reports, links, or other.

THE UTAH UFO HUNTERS

THE TRUTH IS HERE IN UTAH