UTAH UFO VIDEO EVIDENCE

The Rose Park UFO



  www.aliendave.com

THE UTAH UFO HUNTERS

THE TRUTH IS HERE IN UTAH

Original Images and Photographs

  © Copyright 2001-2003 Dave Rosenfeld

Updated on: 10/7/2005
The Rose Park UFO VIDEO

This is a Still taken from the 10 minute Rose Park UFO Video,

Taken on Jan. 27th 1998 at Around 4:30 pm.      by Dave Rosenfeld

Investigated by

The National Institute of Discovery Science

NIDS Analysis Report on video,                    "Inconclusive"

They were able to determine that there was no doctoring of the video.

They were unable to determine what this object was.

It too, becomes part of their research data.

Video was shown on

FOX 13 NEWS                             2/23/03

with great interest.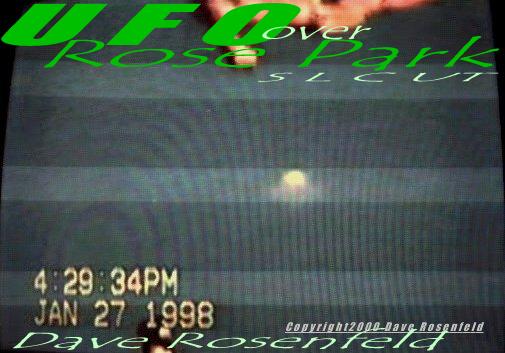 UTAH UFO HUNTERS

INVESTIGATIVE TEAM - UFO

-COPYRIGHTED MATERIAL-

The information we provide is presented in the interests of open-minded scientific learning and the free exchange of research, ideas, and theories. UUFOH makes no specific claims or endorsements regarding any materials, views, or subject matter presented by our guests, reports, links, or other.