UPDATED: 1/1/2008

UUFOH PHOTO:                                                               

SKINWALKER TERRITORY  

Ranch Recon 2002   by UUFOH - Dave Rosenfeld  Copyright 2002-2008


www.aliendave.com    ©  2000-2008

THE UTAH UFO HUNTERS

          THE TRUTH IS HERE IN UTAH



Details... Questions Answered?

Exclusive 2002 Photos and Report from

UTAH'S UFO RANCH

UFO Hill & The Unknown Zone

Exclusive 2003 Photos and Report from The Strangest Place On Earth -THE NIDS RANCH

FEATURED PHOTO: 2005-2006  

SKINWALKER RANCH           

MORE PHOTOS OF THE RANCH AT LINKS BELOW


THE TRUTH IS HERE IN UTAH

UUFOH  FEATURED PHOTOS   

aliendave.c[m - INVESTIGATIVE TEAM - UTAH



____________________________

COPYRIGHT MATERIAL

All original information on this page is © Copyright 2003-2008 UUFOH   All rights reserved. Republication & redissemination of the contents or material on this screen or ony part of this website are expressly prohibited without prior written consent form aliendave.com - uufoh.com

Images may not be copied, published, broadcast,

rewritten, or redistributed. & can only be reproduced with expressed written permission.

The information we provide is presented in the interests of open-minded scientific learning and the free exchange of research, ideas, and theories. UUFOH makes no specific claims or endorsements regarding any materials, views, or subject matter presented by our guests, reports, links, or other.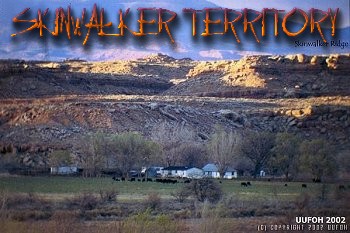 Skinwalker Territory

Utah's Skinwalker Ranch

In which UUFOH is briefly mentioned on page 202,

UUFOH features this beautiful picture of the NIDS Ranch that was taken by Dave Rosenfeld UUFOH Director in summer 2002.

UUFOH has kept an eye on the Mysterious Ranch since 1996 and has the largest database on the UFO Ranch available online.

Photo: by - UUFOH Director

__________________________________________________

8WANTED: YOUR UTAH PHOTOS & VIDEO

F
SUBMIT
YOUR PHOTOS, VIDEOS OF UFOS, BIGFOOT OR PHENOMENON
TO UUFOH - FOR ANALYSIS, DISCLOSURE & DOCUMENTARIES