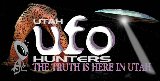 What Others Have To Say About

THE UTAH UFO HUNTERS WEBSITE



Updated on: 11/30/2004


Robert  -   UFO And Strange Phenomena Information Exchange

03/29/2001 - Dear Dave

I just ran into your site last night and wow! we need to meet sometime =hopefully soon. I've been camping at currant creek regularly since 1996 and have seen alot of very strange things in the air and on = the ground .Since then I bought a cabin on the Bandanna Ranch in Fruitland I'm shure your familliar with the area?  Anyway I would like to have you up for a weekend or a night whatever works for you WE NEED TO MEET

Sean Young

02/13/2001 - Dave...lets meet ASAP....saw your web-site first time today Feb 13...e-mail me your tele# ....mine is 801 ----------......probably got some stuff you can put on the site.....investigating some curent cases at the time.....contact me as soon as it is convenient for you......Ryan

01/ 11/ 2001 - I would love to keep in touch with a fellow enthusiast.  I will try to add a

banner to my site but it may be awhile.  My only internet connection currently is from work.  But I'm working to remedy that situation in the near future.  My name is Robert BTW.  Nice to meet you.        R. Earle

1/ 06/ 2001 - Hello there are you interested in exchanging banners or links with us, our site is called Phenomenon and can be found at www.stateoftheart.nl/phenomenon/

we hope to hear back soon

greetings Nils - team phenomenon

01 / 06/ 2001 - Name: Arachnis

Location: Groningen, the Netherlands

URL: http://www.stateoftheart.nl/phenomenon/

Truly amazing site, keep up the good work !

01 / 06/ 2001 - Name: jilaen sherwood

Location: arizona

URL: http://www.geocities.com/area51/orion/37

Thanks for visiting dreamland design..

I have bookmarked your site..and wil come back to check up on utah happenings..

01 / 03/ 2001 - Hi Ya

I hope my letter finds you well, thank you so much for your nice comments about my web site, it means allot to me. Don't cut yourself off short, your site looks great as well. I have placed your banner up in my links page and happy to have you aboard with us.

Thanks again  , Brian HBCC UFO Research

11/06/ 2001 - Hello....

great site. We would love to exchange links.

Thank You,   Bryan

10 / 08/ 2001 - your site is AWESOME!!  Very interesting.!

Kimi

9/20/2001- Wow!  Dave, I went to your site this morning and was amazed at your work.  Really beautiful images.  You're very, very good at what you do.  You're artwork is great too! 

Sanvean            Re: Photos & art

09/07/ 2001

You're welcome. It's a pleasure to hear from you.   Best Wishes

Jerry Wills  Editor / Director

Xpeditions magazine / Xtreme Xpeditions

07 / 28/ 2001 - Hello Alien Dave,

Great web site! We're Ron Regehr and Elaine Douglass, MUFON State Directors for Utah.  We're having a little MUFON get-together early August.  Give us a call at (435) 259-2982, or send us your phone number and we'll chat.

Ron and Elaine

05 / 22/ 2001 - I am really quite intrested in going out and joining one of your search groups I kinda need to know what to do.  I am going to go buy me a really nice camera here soon but still I would love to go on some kind of group watch. 

Please contact me dave:

Thank You, ~Brandan Barker~

"Your web site  ROCKS!  Its better and better all the time!" 

  Mark Woody UUFOH member

01/31/ 2002 - Hi, Dave, Pretty excited to find your website.  My family and I have had several sightings near the Moab area and Lake Powell.  The one near Powell was a fairly low-flying triangular object, and I was able to discern some circular markings on its visible side.  

-  B, L. Carson

01/09/ 2002 - I'm impressed with your creative work, photography, and graphic making.

  Shaun K

01/08/ 2002 - Dave: Great site! We discuss it from time to time on my research groups.

http://jasonleigh.org

Best wishes for a great future.   Jason

12 / 22/ 2001 - I was just visiting your web site, I found it very intriguing! I have to agree with everything you had to say! I appreciate what you are doing with the info on your site. I hope it reaches more and more people in this state and the rest of the world!

Sincerely,   Richard Nielson

11/ 14/ 2001

Thanks Dave.  I wish my hands weren't tied by our main editor. I haven't been "allowed" to write anything about UFOs for several years now.  ... I am, however, trying to get in touch with Terry and Gwen Sherman again, so if anyone knows how to reach them please let me know.  Ryan says they're up in Idaho but I haven't been able to locate them via a number of Internet searches.  I'll check out your sight as soon as I can.  I know there is a guy at a radio station in Park City who wants to do some UFO/paranormal broadcasts, you might see if you can get in touch with him.  You'd be a great resource for him.    Z. 

11/ 12/ 2001 Thank You for posting the information about Wizard David's Reverse Aging Class and Private Sessions on your web site.

Thanks

Cheryl Walden 

1/30/2003 - Dave, I found your page quite a while ago, it is really great.

, thanks for the work you do with this.  Pretty soon, there is gonna be disclosure.  I don't think the contrails fit in with it, but all the sightings, cattle mutilations, etc. blah blah....I feel like this is gonna be answered pretty quick, and Podesta is gonna be key.

Man, what a story it'll be, it won't be long.  The gov already has one lame desensitization program goin', I cannot believe how stupid the gov thinks the average person is regarding this stuff, it's embarassing but it'll be especially embarassing for the government when all is said and done.    .........Mitch Clark

1/21/03 - Hey Dave,

I saw a mutilated calf about a year ago on a farm south of Ocarche, Oklahoma.

It had its jaw/lips removed as cookie cutter sheet circle approximately the

size of a frizbee.  Thought I'd just throw that out there.  Laters, Chaz

2/16/ 2002 - dave - you da man! i just stumbled into your "world" last night. have not had the chance to read much as it is so big. got there like this: reading article by linda moulton howe (earthfiles.com) on the persecution of wilhelm reich. leave that for a while to look at something else. go back to linda and i guess i typed earthfiles in the search box by error. this brings up a number of hits so i click on something different, just to explore. end up in light1998.com, on the same article, by linda. i think she's great, by the way. have you been to light1998? methinks you like. i can do w/o all the biblical shit - i'm not the hellfire and damnation type. in that site i went to "links". found a picture of a pyramid that took me to geocities.com/Baja/5692, the denver international airport thing. went through and read all postings and found you. yipeee! what a cool site you have. my boyfriend just bought this computer two weeks ago. we don't know anything about operating it - just a few things like e-mail and internet. don't know how to download stuff and watch videos, etc.:(, so it may be a while until i can get the full enjoyment out of sights like yours. have been an art bell fan since 1994. also felt like "where have you been all my life" when i found art. thought that was a little mean when you recommended the talk show that makes

art bell "look like oprah". what an insult, dave! art's an innovative guy who deserves a lot of credit for bringing this alternative, para- normal, non-mainstream stuff to nationwide radio. oprah publishes a magazine with her picture on the front every month, for gods sake! anyway, i've read some of your contact reports and looked at your art. you are very talented!!! do you sell any prints? can't spend much be- cause i ain't got no dough. thats never stopped me though when i like something. your photographs are beautiful. you, obviously, are multi- talented. i was thinking, "dave would really dig rods" when i came across them on your site. unfortunately, couldn't view because of my inability to work the machine. anyway, you go dave! it's a beautiful website and i'm going to try to get through the whole thing. it's EXACTLY what i was looking for. will write again when i've something to say.   live free or die, baby!    susan o.

p.s. and just what the hell IS going on at DIA? creepy.