cats are being farmed for their skins in the European Union

Detailed descriptions of mutilations and curcumstances, Animal behavior, etc

RELATED NEWS AND LINKS                           COLORADO TOTAL IS 45

Staff Sgt. Ray Kelleher of the Salt Lake County Animal Services Department poses with a map that pinpoints the locations where mutilated cats and one dog have been found.

UTAH CAT MUTILATIONS

NTOTAL TO DATE: 19

OTHER LINKS

N Cat Mutilations May Be Related        Friday, July 19, 2002

The mutilation of a cat in the Avenues this week may have been the second such incident in the neighborhood in the past two weeks, animal services officials said Thursday.     After hearing the story of a 7-year-old neutered male cat who was found mutilated Wednesday morning, an Avenues resident called Salt Lake County Animal Services to report he had found a dead cat near his home a couple of weeks ago, said Temma Martin, animal services spokeswoman.     The cat, which did not belong to the man, had been gutted and decapitated, and the man thought it had been attacked by another animal, Martin said. He disposed of the body, which he said looked like it was cut open from the side.     The man lives in the area of J Street and 600 North, Martin said. The mutilated cat found Wednesday was near H Street and 500 North. A hole larger than a tennis ball had been cut into its side, and its intestines had been removed and set beside the body. Its heart was missing, authorities said.     The two cases sound "similar enough" to be linked, Martin said Thursday.     The Humane Society of Utah is offering a $2,500 reward for information leading to the arrest and conviction of those responsible, said Gene Baierschmidt, the society's executive director. Also, a Taylorsville couple stepped forward Thursday to add $500 to that reward. Steve Russell is offering the reward with his wife, Sarah.     Anyone with information on the case can call county authorities at 743-7045, or John Fox, cruelty investigator for the Humane Society of Utah, at 261-2919, Ext. 210.

N Salt Lake City, Utah             

Since May 2002, seven mutilated cats - only the front halves left behind - have been reported in Salt Lake City, Utah. The first week of November, a resident found the front half of an "adult orange tabby" in a cemetery. Right behind the cat's front shoulders, a precise, bloodless cut had severed the rest of the body which was missing.

  Temma Martin, spokeswoman for the Salt Lake County Animal Services, told reporters, "Whether it's a predator or a deranged person, something is getting people's cats. You just never think it's going to happen to you. It's too dangerous to let your pets wander. This needs to be taken very seriously."

$6,500 Reward Offered - Salt Lake City

To report information, call:

Utah Humane Society  801-261-2929  EXT 210

Salt Lake City Police Department Detective Keri Sanders   799-3000    799-3464

Salt Lake County Animal Services 269-7499


Salt Lake City, Utah Animal Mutilation Cases Reported Between July 2, 2002 and July 5th, 2003:

1) May 14, 2002, cat.  Throat cut.

2) July   2, 2002, cat. Head and organs missing

3) July 17, 2002, cat. Hole cut in left side, organs missing

4) July 18, 2002, cat.  Hole cut in right side, organs missing

5) July 21, 2002, cat.  Front half found, organs missing

6) July 25, 2002, cat.

7) Oct, 17, 2002, dog.

8) Oct. 28, 2002, cat.  Back half found, organs missing

9) Nov,  7, 2002, cat.  Front half found, organs missing

10) April 23, 2003, cat. Back half found, all upper organs missing

11) June 30 2003, cat. Front half found, organs missing

12-19) Sept 4 2003, multiple cats found decapitated, paws cut off, & arranged in a pentagram.

____________________________________________________________

In Salt Lake City, the Humane Society of Utah sent a letter to the city's police chief in March urging that he have investigators question accused Elizabeth Smart kidnapper Brian David Mitchell about a string of cat killings.

The letter cited Mitchell's proximity to the neighborhood where some of the killings took place, the fact that the mutilations "indicated a ritualistic or cultlike motivation" and Mitchell's alleged past cruelty to animals.

The theory proved wrong when investigators discovered Mitchell was out of the state when three of the cats were killed.

Despite his skepticism, Lockwood said it is possible a person or people are responsible for the cat mutilations.

"I wouldn't rule it out," he said. "I think it is possible that some of these are attributable to people. I think it is extremely unlikely that an individual or a group of individuals are cruising between Denver and Aurora and Salt Lake in search of cats - that's extremely unlikely."

____________________________________________________________

The Mysterious Cat Mutilations Continue

The condition of the mutilated cats are such that a "predator" killing is highly unlikely.

Police warning people in the area to keep their pets indoors

http://www.earthfiles.com/news/news.cfm?ID=437&category=Environment

Since the end of May 2002, the bodies of five domestic pet cats have been found here in various states of gruesome, deliberate dismemberment

HUMANE SOCIETY OFFERS REWARD FOR CONVICTION IN N"HEINOUS" CAT MUTILATION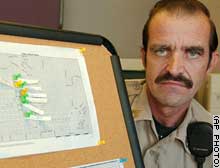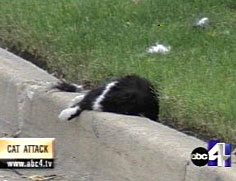 the killings continue..

Utah cat mutilations

UUFOH INVESTIGATES: 

NMore Mutilations in Utah!

We will be working with several researchers and organizations in our investigation on the Salt Lake City Cat Mutilations  We would like to possibly compare the cat mutilations with other cases, mainly Cattle Mutilations. We would also like to be informed of any future occurances of mutilations and examine the animal/s to make comparisons to other mutilation cases. (cuts, burns, traces,etc.) if possible. We hope to be of assistance or offer another view into this ongoing investigation. We offer our services to this cause and hopefully end the bizarre killings in the Ave's of Salt Lake City

This Investigation is included in a new video documentary

'The Unknown Zone'

NUPDATES:

N> Reward is now up to $8,500.00

N> Now in contact with the 'Investigator in charge.'

  Lt. Troy Wood Field Supervisor / Special Investigator for

Salt Lake County Animal Services.

N> 6/26/03 The Humane Society of Utah is not the lead agency in the cat mutilation investigation.   The lead agency is Salt Lake County Animal Services, assisted by the Salt Lake City Police Department.  You should direct any inquiries to those agencies. 

Thank you, again, for your inquiry. Sincerely,

John Paul Fox   Chief Investigator  (jfox@utahhumane.org)

N> 6/26/03 Your message was forwarded to me from John Fox at the Utah Humane Society. I applaud your efforts in researching the incidents of cat mutilations here. I am forwarding your request and comments to Detective Sanders & Captain Dencker that are in charge of these incidents.Peggy Call, Crime Analyst  SLCPD, UT

N> Investigators in Salt Lake City discovered an animal den at the top of a street where half the killings and mutilations occurred, said Temma Martin, spokeswoman for Salt Lake County Animal Services.  She said investigators are trying to determine what animal lives or lived in the den and if it is connected to the case.

"We are constantly back and forth between looking at humans and animals," she said

N> Only three of the 19 cats had known owners

Mutilated Half Cat

We have to start asking ourselves if this person is capable of doing this to a human victim.

Maybe they're desensitising themselves with cats

Temma Martin, Salt Lake County Animal Services

Photo courtesy of Denver ABC 4 TV News

UPDATED: 10/18/2005
THE TRUTH IS HERE IN UTAH

UUFOH  INVESTIGATIVE TEAM -ET Experiments?

aliendave.c[m    N MUTILATIONS



Don't be a victim!

resist the temptation of alien sex

hybrids are bait! 

aliendave.com

THE UTAH UFO HUNTERS

THE TRUTH IS HERE IN UTAH

The information we provide is presented in the interests of open-minded scientific learning and the free exchange of research, ideas, and theories. UUFOH makes no specific claims or endorsements regarding any materials, views, or subject matter presented by our guests, reports, links, or other.