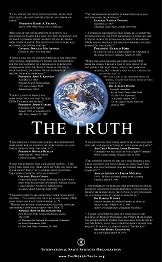 "The Truth" Poster 

This 19" x 27" full-color poster is a replica of Joe Firmage's USA Today full-page advertisement that ran on Friday, February 19, 1999. It includes 14 quotations (several of which are shown at the top of the the main page of this website) with references from past U.S. Presidents and famous military leaders in relation to UFOs and extraterrestrials.                



UPDATED: 12/5/2005
THE TRUTH IS HERE IN UTAH

THE UTAH UFO HUNTERS

aliendave.c[m - INVESTIGATIVE TEAM - UTAH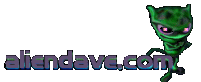 THE UTAH UFO HUNTERS

THE TRUTH IS HERE IN UTAH


THE TRUTH

Click on image for large downloadable version




____________________________

____________________________

The information we provide is presented in the interests of open-minded scientific learning and the free exchange of research, ideas, and theories. UUFOH makes no specific claims or endorsements regarding any materials, views, or subject matter presented by our guests, reports, links, or other.